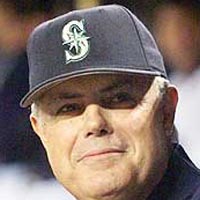 I have no pride in Lou anymore. I mean one season he manages a Seattle club that wins 100 plus games, the next season he leads his team to 80 plus wins, and the next season can only be worse. The devil rays are in Lou's unsafe hands.
By the way, i'm so happy. Aubrey Huff hit a homer. I better go celebrate with Toby Hall, Randy Winn, Tanyon Sutrtze and all the rest.
Come on, get rid of lousy name players like these guys, and make a competitive team.
Don't forget, the only reason Lou's in Tampa Bay is because his family lives nearby. Great, so his family gets season tickets to the Devil Rays. The new and improved Pinella Rays. Yea, they should just be called the Pinella Rays. I mean the franchise will probably be gone as soon as Pinella retires, right?

See, Bob Melvin knows how to take pride in his job. Bob, don't sit back and relax knowing what players you have to work with, just yet, because guys like Jose Gullen, your shortstop, really suck.
Tell Ichiro to strike out less by taking more pitches, I mean he has not been looking like a good hitter late last season. and tell Kasuhira Sasaki he's got great stuff and he basically frightens hitters who have to stare at his frying pan shaped face. Mike Cameron sucks at baserunning. He got picked off every other day. Bret Boone cannot throw accurately at second base. Work with these stupid dudes, and really, there have been so many complaints about Safeco Field and the sun that blocks hitters' visions. Hitters cannot play the game staring at the ugly Seattle fire ball electrified by the stupid space needle.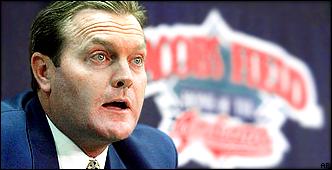 Eric Wedge is takin over for Joel Skinner for tribe in Cleveland. The Indians were unable to put it together last year, with the loss of long time Indians manager Charlie Manuel whose brain exploded into tiny pieces during a mental breakdown in the middle of last season.
Eric's gotta get this group of tribal dickheads some pitching, because a rotation of Danys Baez, CC Sabathia, Charlie Nagy, Terry Mulholland and a AAA pitcher just dosen't cut it. "Coco Crisp", the new center fielder did a nice job, so if the Indians are smart, they'll keep the guy
A 3rd baseman, a catcher, and quite possibly a first baseman will be needed, so get to work Eric.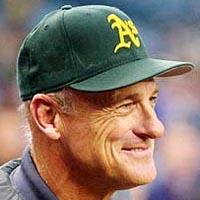 Art Howe has moved from the A's organization to the Mets organization. Whattya gonna do art? Lead the Mets to 2 months without a lousy win? My advice, don't let Mo be 5000 pounds, don't let Roberto, edgardo, and Rey make errors every day, don't let Jeromy Burnitz strike out every at bat. Make your team competitive... slightly? please?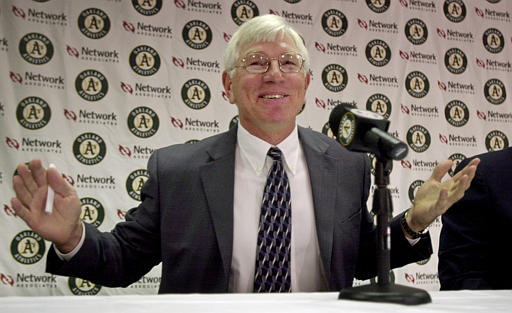 Kevin Macha has gone from Athletics bench coach to Athletics manager. The old guy better havea good idea of what he's doin, because he seems pretty constipated in the above picture. But Kevin is familiar with Hudson, Mulder and Zito, so he knows how to handle these 3 ever so polpular pitchers.
Your infeilders are great athletes and know how to field, and are smart at the plate, so make sure Mark Ellis and Eric Chavez don't get arrested anymore, they're needed on the field.
The a's gotta get new outfielders, because I am sick of hearing about Terrence and Jermaine making love together in the outfield. Send them to the apollo and it won't be hard for the place to be sold out. Baseball cannot go on with these 2 irritating names on the A's.
And Kevin, learn some Dominican, you know, so you can communicate with Miguel.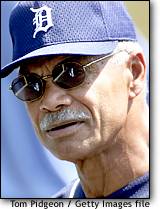 Felipe Alou's with the Giants now. Well whoopdee doo. go throw a party with Tsyuyoshi Shinjo, Barry Bonds and Rich Aurilia.
Felipe, get rid of Shawon Dunston, he's 80 years old. wait... his 81st birthday was yesterday! get rid of him now before he breaks his dentures in spring training.
In your spare time, make a request to put spikes all over Macovey cove, just so right fielders can get even more injured then they already are from leaning against that metal wall in right field. Willie Macovey must be made out of metal bars or somethin.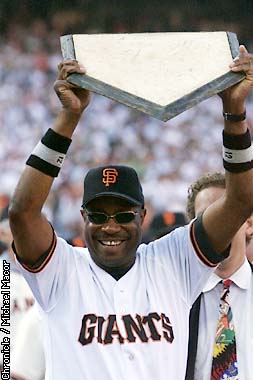 Dusty, can you stop smiling for a moment and face the facts. you're going to manage a team that hasn't won a world series title in 94 years. that's older than your grandfather Dusty. if your team even wants to get close to the playoffs, get rid of all your players except sosa, alou and mcgriff and find guys who can figure out how to play baseball without making errors, blowing saves, striking out, batting without patience, and allowing pitchers to walk away after throwing 40 pitches an outing.
Find guys who can work the count.
And send Alfonseca back to whereever he came from. he blew how many?? 400 saves in his career? just abandon him if you have to.
But I do have to give credit to kerry wood and mark prior, who were willing to pitch for the Chicago Cubs with their losing ways.

You know, it's very unfortunate for the Milwaukee Brewers to have gone through last season with a record of 56 and 106. They've been through so much pain and suffering, going through managerr after manager.
I actually like the idea of old Ned Yost comin over to Milwaukee. The "brew crew" could end up with a winning record next season. I mean the best they can do to boost up attendance at Miller Park is to at least have a manager who knows what he's doing. Yea ...... right.
The Brewers have just hired another manager with no major league experience, and expect to move to the winning side. Ned, good luck.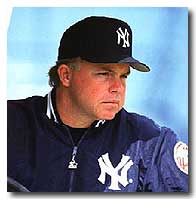 Former manager of the yankees and the diamondbacks Buck showalter is now heading for Texas. This past baseball season, he wasn't working for a team believe it or not. He was working for ESPN. The Rangers seemed to be in serious need of a manager who knows how to manage with "authority and smartitude" (quote fron previous Rangers manager).
Well, Buck has the experience and has serious baseball knowledge that would blow out any manager just like that. He knows what todays pitchers are like, so he can tell his players what to expect.
But the bad thing is he's gonna be working in the hot Texas sun, which will burn his old face just pancakes are prepared.