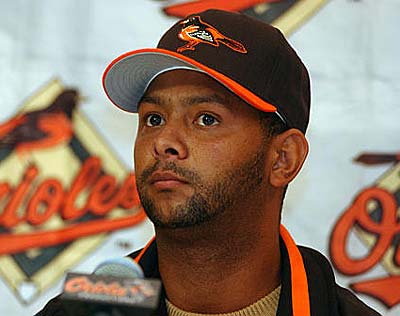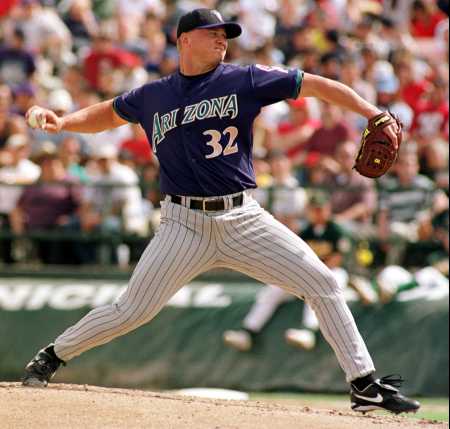 When looking at Baltimore's pitching, the O's have acquired pitchers with talent that's unheard of: omar daal and rick helling. In helling's 9 year career, his average ERA is 4.72, he did pitch for the '97 world champion marlins (with a record of 2-6 in 31 appearances) and from '98- '01 with the rangers, he's started 30 or more games, had a winning record, and had an ERA between 4 and 5. He's a great pitcher and Arizona should of gave him away, just because they've been bragging to much about The unit and Curt. Omar Daal had a record breaking season with the Dodgers. The O's gotta expect many quality starts, and his experience, with Helling's, brings some presence to the young rotation that has become young and old just like that. I expect winning records from them, and I can't wait for my Omal Dall bobble head.

Three different areas want a baseball team, whether it's called the expos, praying manti, big giants, or devil dogs: North Virginia, Portland, and the District of Columbia. Officials from each of the three areas will make presentations next month in front of the ultimate loser/Bud. First of all North Virginia is not a city, Virginia never had a pro sports team, maybe in a few thousand years, and the population of Virginia is about 200, so where's the attendance gonna come from? Portland is a great, sunny area to house a baseball club, there's a great environment there, and it would fit in nice with the AL West, if the Expos can move out of the NL east. Lastly, DC is just a bad idea from the get go. In the early 1900's there were teams in Baltimore and DC because all the teams were in the east. But now that there's the central and the western divisions, it's just going to interfere with the orioles and Rodrigo Lopez's huge salary... Portland is the way to go.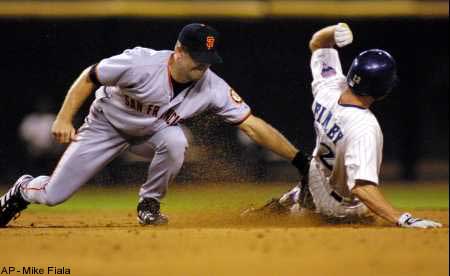 Giants second baseman Jeff Kent has moved to a better place, yes, to the Astros of Houston, Texas, the team that has an incredible amount of veteran players, you're gonna have to go to their minor league teams to find players under the age of 30. Come on Astros, get some young talent for the love of the people of Houston. Just get your act together and stop acquiring old players like Kent and get rid of other old players like Bagwell. I don't care what people say about veteran players being so good. It's all wrong.
And what about Craig Biggio? He's moving from second to right field? I've got no problem with that, but don't be too suprised if he starts acting like Chipper Jones, the former third baseman, who positions himself deep in the outfield and doesn't field shallow pop ups. It's gonna be some adjustment.